Aluminum scaffolding plank for sale supplied by Hengxiang is also called walk board or catwalk. The lightweight scaffold planks are used to walk through the scaffolding system or elevate the step on the scaffolding.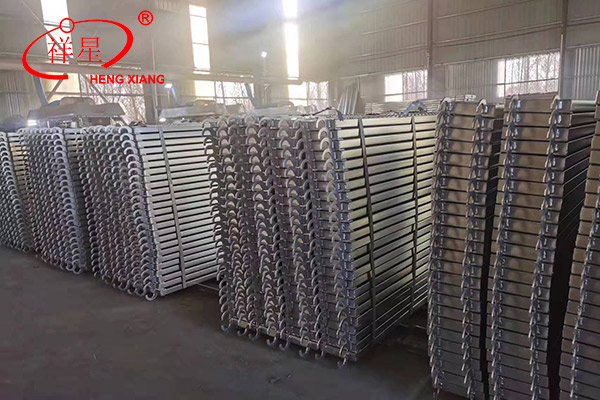 The aluminum walk planks are suitable for most scaffolding applications. Compared with wooden planks, an aluminum catwalk is more portable, more durable, stronger and safer.
Except for scaffolding planks, we can also supply casters and
scaffold plank hooks
, and other related spare parts.
Specifications of aluminum scaffold plank with hooks
| | | |
| --- | --- | --- |
| Description | Size | Weight (KG) |
| 5' Aluminum Planks | 19" x 5' | 11.35 |
| 7' Aluminum Planks | 19" x 7' | 13.62 |
| 8'Aluminum Planks | 19" x 8' | 15.89 |
| 10'Aluminum Planks | 19" x 10' | 17.70 |
Advantages of aluminum scaffolding plank
1. Durable & stable
2. Good bearing capacity
3. Low cost, high quality
4. Excellent security function
5. Easy to assemble & dismantle
6. Long durability, the working life can up to 5-8 years
7. Corrode-resistant, Slip prevention, Anti-fire, Anti-sand, less weight
8. All sizes can be customized
About Hengxiang
Hebei Hengxiang Engineering Materials Co., LTD is a professional scaffolding manufacturer in China. Our factory was established in 2008. And nowadays, our factory can design and produce all types of scaffolding systems, suspended work platforms and related accessories.
Our products have been exported to many countries and regions, for instance, India, Russia, Lebanon, Brazil, Iraq, Algeria, Peru, Chile, Turkey, Philippines, Ukraine, Panama, Kuwait, UNITED Arab Emirates, etc.
We offer a wide range of scaffolding products to suit almost any access problem you encounter, from swing stage scaffolding, and frame scaffolds to self-climbing scaffolding systems. If you are interested in our products, call us for a free quote.