Scaffolding metal deck is also called catwalk or walk board. The scaffold board decking is used for workers to walk through the scaffolding system or elevate the step on the scaffolding.
A heavy-duty scaffolding metal deck is usually with hooks that can make a firm connection between the metal deck and the scaffolding frame system. Our company can supply the scaffold board decking with hooks or without hooks. The
scaffolding catwalk
is high quality and good price, welcome to send your inquiry.
Scaffold walking board specifications
| | | |
| --- | --- | --- |
| Width*Height | Thickness | Length |
| 210*45mm | 1.0-2.0mm | 1-4m |
| 240*45mm | 1.0-2.0mm | 1-4m |
| 250*50mm | 1.0-2.0mm | 1-4m |
| 250*40mm | 1.0-2.0mm | 1-4m |
| 225*38mm | 1.0-2.0mm | 1-4m |
| 230*65mm | 1.5-1.8mm | 1-4m |
| 300*50mm | 1.5-1.8mm | 1-4m |
Note:Other sizes are also available, get in touch with our team to lean more information.
Scaffolding metal deck features
Durable & stable, long service life
Good bearing capacity.
Low cost, high quality.
Easy to assemble & dismantle.
Corrode-resistant, slip prevention, anti-fire, anti-sand.
Various sizes of scaffolding plank customization are available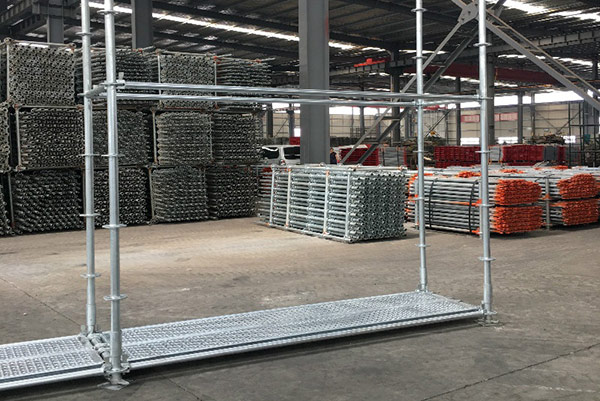 About Hengxiang Engineering Materials Co., LTD
Hebei Hengxiang Engineering Materials Co., LTD specializes in the design and production of scaffolding. Our company supplies a wide range of scaffolding products to suit almost any access problem, including swing stage scaffolds,
swing stage parts
, frame scaffolds, ring lock scaffolding, self-climbing scaffolding systems. Spare parts such as
scaffold plank hooks
and casters are available.
Our products have been exported to many countries around the world. Good price, good quality, and good service. Hengxiang suspended platform and scaffolding will be your best choice. For more detailed information including pricing, customization, and shipping, contact us for a free quote.